PEMF Therapy
RECHARGE YOUR CELLS WITH ELECTROMAGNETIC FREQUENCY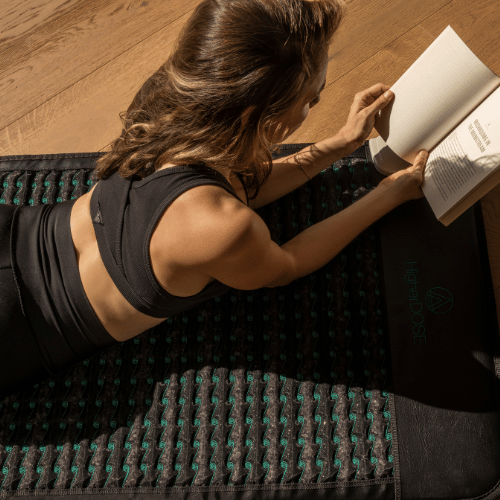 PEMF Therapy - What is it?
PEMF (Pulsed Electromagnetic Field) technology* works by sending low-level frequency throughout your body to recharge cells, expedite recovery, and calm the central nervous system.
Pulsed Electromagnetic Field (PEMF) therapy emits electromagnetic waves that mimic natural frequencies found in nature. PEMF Therapy generates a frequency that allows us to target cellular functions.
Therapeutic and native PEMFs are different from EMFs. PEMF's resonate with the brain and the body unlike EMF's from a cell phone which are out of alignment and do not resonate with the brain and body.
PEMF has been scientifically-proven to improve chronic pain conditions, lessen inflammation, and improve immune response.
Benefits of PEMF Therapy
PEMF therapy is known to offer a variety of health benefits, including reducing inflammation, improving circulation, increasing energy levels, reducing stress, enhancing detoxification, and promoting better overall health. PEMF therapy can be used to treat a range of physical, mental, and emotional issues, helping you to feel your best.
​PEMF therapy can be beneficial for anyone looking to improve their overall health and wellness. That's why we've added this incredible service to add to your wellness plan.
PEMF Therapy is especially helpful for those who suffer from chronic pain and inflammation or are looking for a natural way to reduce stress and anxiety. It can also be used to improve circulation and to help with tissue healing. Regen IV Wellness provides top-notch PEMF therapy services to help you unlock the power of PEMF therapy.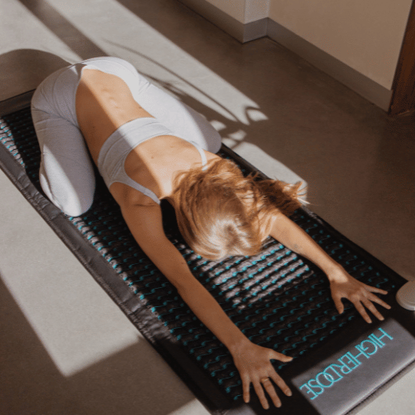 PEMF Therapy at Regen IV Wellness
At Regen IV Wellness, we offer PEMF therapy using HigherDose technology featured in Goop, Harpers Bazaar, Tracy Anderson, just to name a few. Celebrities and athletes like Gwyneth Paltrow, January Jones, Nastia Liukin, Nikki Reed and others have uncovered the benefits of PEMF therapy.
When you book a PEMF therapy session at Regen IV Wellness, you get time blocked in our special Recharge Room. Here you will enjoy a relaxing and calming private session while your body gets a chance to heal and recover.
Our HigherDose mats combine PEMF and Ion technology to provide you the most effective healing session. Our Mats contain 20lbs of Crystal Therapy alone to transmit the PEMF effectively for the ultimate grounding experience.
When heated, the crystals produce negative ions, which are like antioxidants in the air. These ions neutralize free radicals and can improve your mood by directly impacting your serotonin levels. Your body and mind stay balanced and you can get high naturally.
PEMF Therapy Frequencies
Our PEMF technology has 4 different frequencies to achieve a variety of results. Check out the chart below and find out which frequencies are best for your health goals.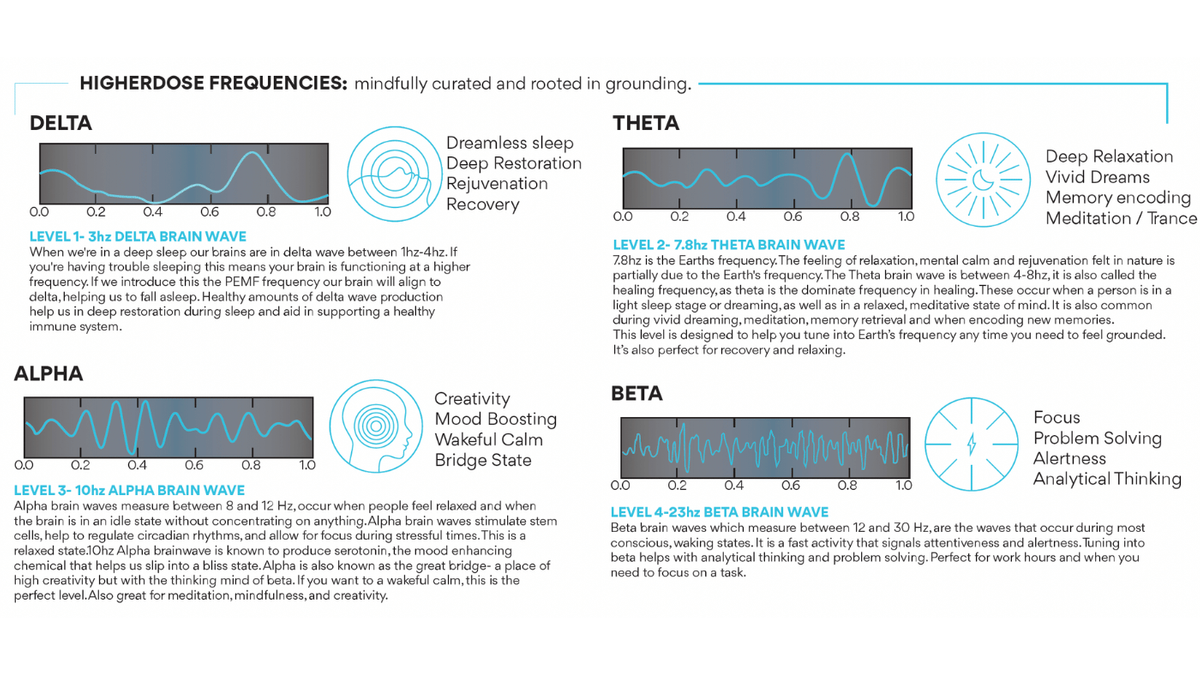 PEMF Therapy Pricing
Our PEMF therapy sessions in our Recharge Room run in 15 minute increments. Book as many sessions as you need to Recharge for as long as you'd like. If you choose to use the infrared sauna, towels are provided.


PEMF Therapy 30 Minute 6 Pack
$250
Get 2 sessions FREE - Save $140
PEMF Therapy Appointment
Book some time in our Recharge Room with PEMF, infrared sauna, or BOTH. Indulge in some self care and healing by recharging your cells with the benefits of PEMF and infrared technology.
*No show appointments incur a $25 no show fee.
Who should use PEMF therapy?
PEMF therapy is suitable for anyone looking to improve their health and wellbeing. Whether you're suffering from chronic pain or just want to give your body a natural boost, PEMF therapy could be the perfect solution. At Regen IV Wellness, we offer professional PEMF therapy services to ensure that our clients get the best results possible.
How often can I do PEMF therapy?
You can use PEMF therapy wherever, whenever, and as many times and as often as you want.
What do I wear during PEMF therapy?
You can wear your normal clothes during a PEMF therapy session. We do recommend something comfy so you can get the full relaxation benefits during your time in the Recharge Room.
When do I do PEMF therapy?
You can use the mat whenever works best for you, but some of our favorite times:
As part of a health plan
Before a workout
Before going to sleep
While watching TV
During your AM/PM meditation
As a part of any wind down routine